Jorge Nazer: "I want to help in the reconstruction of business credibility in my country"
BLOG
1 Octubre, 2020
Jorge Nazer talks to Diario Financiero Chilean business-focused newspaper. The founder of Grupo ALTO, after 4 years in Miami, where he opened the firm's US operation, returned to Chile a month ago. "Today we need entrepreneurs to come back because Chile is going to require a significant reconstruction of its businesses," he says. See interview: […]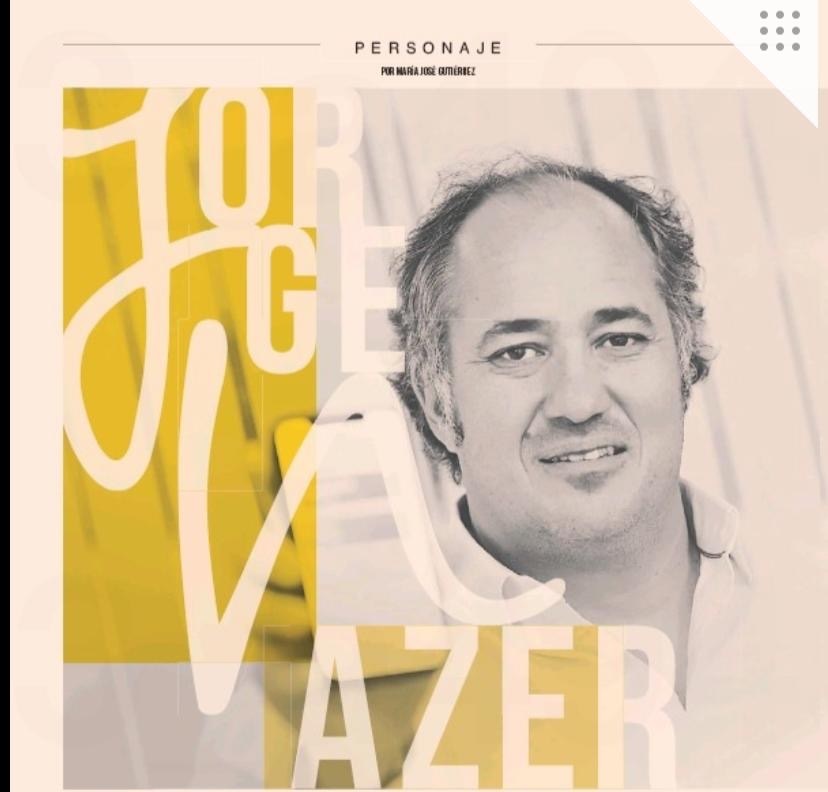 Jorge Nazer talks to Diario Financiero Chilean business-focused newspaper.
The founder of Grupo ALTO, after 4 years in Miami, where he opened the firm's US operation, returned to Chile a month ago. "Today we need entrepreneurs to come back because Chile is going to require a significant reconstruction of its businesses," he says.
See interview: https://lnkd.in/enYxHjG  
In May he made the decision.
Jorge Nazer, founder of Grupo ALTO, settled in Miami in 2016 with his wife and five children – between 8 and 17 years old – with the mission of launching the business in the United States. It was not easy. It was only after two years that he managed to obtain the first permanent contracts, and after three years, the operation was generating "interesting income". It now has five US retail chains in its portfolio, representing 900 locations. For the North American market, and for Nazer, this is just the beginning.
But Chile's social uprising in October 2019 really shook things up. At the end of last year, the businessman stayed in Chile for a month to support both his clients and the government in securing the supply chain. "We made our data available to speed up visibility of the things that were happening: where business premises were being set on fire, how the population was moving," he explains. With this they prepared accusations and handed them over to the prosecutors.
Then came the pandemic and the economic crisis. "I want to go and help Chile as much as possible," he told his wife. They waited for the children to finish the school year in Key Biscayne and on August 17 they flew back to Santiago.
Sitting in his back garden, still in the process of moving in, the director of Endeavor reflects on things for the camera: "I believe that when things are bad we have to be close to our people and our country. Today we need entrepreneurs to come back because Chile is going to require a major reconstruction of its companies."
After more thought he continues: "This is a personal and family decision. Connecting with your reality is what allows you to educate well. And I want my children to experience what it means to be in a difficult moment. We were there on "Fantasy Island", with good schools, access to the arts, inclusive services -the youngest has Down Syndrome-, our daughter studying in one of the best music conservatories in the world – things that are sometimes difficult to leave. But my country gave me a good education, it allowed me to start from scratch with my company and I have done well, how can I not go back now?"
"Nobody cares what happens to Chile. The international community doesn't regard it as a business superpower because it's so small."
However, from the point of view of the business, the decision was crazy, he notes – just when Alto was taking off in the US. In light of this, once flight services are back to normal Nazer intends to travel constantly, while fellow Chilean Cristián López will lead the operation from there.
–Will you take on a specific role in Chile?
I want to help rebuild business credibility in my country. And the only way to do that is by showing not only your successes, but also your failures, and supporting others on this path. I am not thinking of any particular position, what I have learned is that from civil society one can do a lot without being a politician or a union leader. My role is to support entrepreneurship and innovation.
The Launch
The United States project began to take shape in 2014. "We knew that it's a huge opportunity, and what you think is worth 1 is actually worth 100, and if you do well in 1, you also do well in 100," reflected Nazer on those days. The company that was born with a mission to deter shoplifting had migrated to data analysis services using advanced technology managed from a hub in Colombia, and with operations in Mexico, Spain, Colombia, Peru and Chile.
After considering Atlanta, Austin and Texas, the entrepreneur chose Miami as his headquarters, for two reasons: because a lot of Latin American business is done from there, and because of taxes. "Miami offers a very even playing field for receiving investors," he says.
–What did you offer the Americans?
We came to offer a security solution, risk control and operational control.
But in the first meetings they realized that the North American market was nothing like that of Latin America. In a presentation to Whole Foods they received the first clues.
First, focus: "you have to choose very carefully what product you are going to offer, how long it will take to sell it, how you are going to make it," they told him. Two: "do not have Chilean staff going out to sell. You must have a local 'front desk'." So, with López, they set out to recruit former executives from McKenzie, Amazon, Expedia, Uber etc.
Third, learning: technology in itself is useless, it is not an end, but a means to improve processes.
Fourth, "you have to target a pain point that the client has. We were used to developing a product and after two months we had sold it," he says. Once the pain point was detected, they had to package the solution.
–What is the US package like?
It has very clear metrics: I don't buy anything from you that doesn't have a measurable financial impact. And we had to do that part with powerful and expensive local businessmen, too. We're good at giving data actionability, but how do we monetize it? For that we had to run pilot projects and bet on a return on investment, which we had never measured in the way they do: what is the payback of me giving you the information and having you process it?; that my employees use your app and not another, etc?
– At some point did you think: 'Let's forget it'?
Many times, there were big altercations between our partners and executives. It was not working for us, because we were approaching the US with the wrong mentality, the product we wanted to promote was not the right one, or we were not presenting it well. Decision-making there can take a year and sometimes longer. This was a case of starting from scratch with a lot of motivation, with a lot of money – but then the money starts to run out. So, you have a dilemma: do I get a new investor in now, or later? We stood firm with clenched teeth, until we ran a pilot with a large client called Albertsons, a retailer with 4,500 stores. The numbers were so good, they couldn't believe it, neither could we. And they told us after a year "validate your model with another company and come back". That was another lesson: never run a pilot for free, and certainly not for that long.
With a second pilot ready, Albertsons did sign the contract. And then another retailer came, and another. At the end of 2018 ALTO began to gain traction with clients, in 2019 they already had "interesting income", and in 2020, despite Covid, they have managed to close some large accounts. "Over there we focus purely on retail: if in Chile the total number of supermarkets is a thousand, in the US it's a million. That's the proportion," he says. In the rest of Latin America, Alto's business covers both retail and industry.
– Is there a market that hasn't worked for you?
It has always worked, but in all of them we have had to adapt. The company has this spirit of betting, that making a mistake is not so serious. We've been wrong many times in the development of products, mainly when we haven't developed them together with customers but in our own laboratory.
–What's next?
There are two things going on: one is that this market is infinite, therefore we have a lot there to keep us busy before thinking about opening another country. And two, everything learned there is very easy to replicate in L.A. later. Consolidating the US is a very big challenge because we're still a startup, even though we serve 900 stores, because it's still a constant process of validation. It's not that we've been successful in the US, we're just starting. It's funny that you ask me what's next – what we're doing is very difficult! Just let me get through this little by little! I always say that sometimes you are in the middle of the forest and you don't know where you are until you come out. And you come out when things start to work out for you, which happened for us in four years, with everything from tears to joy.
–Do you plan to open up to new investors?
Not yet.
–Yet?
I always say that because it will happen at some point. When we are in 2,000 locations, we have more revenue, we will probably be very interesting for a fund or a US investor.
Missing Home
–How do you see the Chile of today compared to the one you left 4 years ago?
I see it very changed, very polarized, with a feeling of disconnection between the business community and the rest of the world. That worries me, and I don't quite understand it. I see that Chile is in a bad way, and shall I tell you the truth? Nobody cares what happens to Chile. Chile is not regarded by the international community as a business superpower because it's so small. Chile must be taken care of because it is Chile, it's a small country, with an incredible rate of talent. In the rest of the region, when Argentines, Colombians or Venezuelans leave their countries, they do not return. Chile is different. It's one of the few countries in Latin America where nationals who leave want to return and can do so. So, it makes me angry and helpless to see that these trivial, silly fights only scare the people who want to be here. But not the companies, because many are going to leave, and others will arrive, but the talent won't.
-How do you see the next few years?
We are going to go through 3, 4 or 5 terrible years, with many people suffering, especially those who are falling into poverty. It will be more difficult to invest and perhaps it will be harder for the large companies to stand out elsewhere. But if you look throughout history, all the revolutions that Chile has had have been more or less similar, the one in '25, the 70s, the 80s. When have Chileans not been scared? We live scared! Today we are scared because there is great uncertainty regarding the Constitution, what will happen later, etc. But in the end, Chileans are sensible: We've never been so stupid as to wreck our country even though we've been able to do so several times.